About Our Club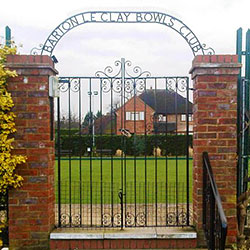 In 1984 two residents of the village, Steve Bower and Alan Rowley had a vision of a Bowling Green in Barton. Their dream led to them leafleting every house in the village with their proposed plans and approaching the local Council. Two members of the Council were particularly receptive to their vision Peter James who bowled at the time for Leaside Bowls Club and Ron Bunker. A hurdle then for these four men was to find a piece of ground on which they could establish the Bowling Club but this initially proved to be difficult especially when they did not have any money! They approached Barton Rovers Football Club who said they were willing to help and donated for their use a piece of ground at a 'Peppercorn Rent'. The provisos were that all future Bowls Club members joined the Barton Rovers Social Club and that the Bowls Club did not have their own bar. Needless to say the deal was done. A huge debt of gratitude should be paid to these four particular men as they are the ones who initially got this great project started and a huge thank you to Steve and Alan who paid for all expenses out of their own pocket.
Spurred on from this a Steering Committee was formed urged on by the local Carpet Bowls Club. The Steering Committee included 2 people from Barton Rovers Football Club, 2 people from the Carpet Bowls Club and 2 from the Parish Council. Again a big thank you to the Carpet Bowls Club as they donated our concrete garage. To start this great venture, money had to be raised. The Steering Committee advertised in the local Outlook Magazine for Founder Members and 84 people each paid £10 to get us going (a list is included for interest) and the Council paid for the planning application which was £53.00, so thank you to them.
Planning permission was applied for and only one objection was raised. Mr Frank Osborne the Chairman of Barton Rovers Football Club at the time remarked leave it to me I will go and speak to them. It is a great testament to Frank that after explaining the situation and allaying their fears the objection was dropped and full planning permission was granted on 1st June 1987.
The Steering Committee worked tirelessly to obtain grants and loans to realise their dream and eventually succeeded in obtaining a £20,000 loan from the Parish Council, to be paid back over 20 years. In addition they succeeded in securing grants of £20,000. Only one problem a deposit of £500 was required to set this up. Fortunately, one of the Founder Members, Ray Penny, came to the rescue to provide this – this should never be forgotten.
Work was now ready to begin and a meeting was called for all interested Bowlers to attend. This was held in the Football Club and the first Bowls Committee was formed. Chairpersons were Peter James and Gwen Odell, Stan Jones was Secretary and Bernard McEwan Treasurer. The Green started to take shape – only one problem no place to change or to provide food for the visitors. 10 members of our Club stepped forward and provided the money to purchase a mobile ticket office from British Rail – this was to become our home. These ten people became life members. Amenity Landscape Construction of Barnet, Herts. started work on constructing the Green in October 1987. The work was completed at the cost of £31,109 + VAT in March 1988. Following on from this a hand push along watering system was purchased at the cost of £572.00 and the chain link fence at the cost of £2,780.00.
Many other Clubs helped by providing their spare equipment and British Rail, the Rotary Club and the Doctor's Surgery donated seats. Stuart Willison, very generously donated £1,500 to help us on our way. Our Club was born; we were ready for action headed up by our first ever Captains John and Kath Cornish. As you can see our Club was a true mixed club from day one. Green Keepers were Harold Froy, Dennis Galliers and Arthur Joyce. One forgotten item was the Club colours so blue was taken from Barton Rovers F.C colours and the Claret from the Carpet Bowls colours. In preparation for our first season we were invited to play at Riverain and Wilstead in 1987.
Our first season opened in April 1988, at a membership fee of £13.00 per season. The men's first game that season was away to Olney, the ladies opened their season at Electrolux and the first home game was against Kents. We had many more losses than wins, but we were on the road. Half way through the season our mower broke down but fortunately the Rovers came to our aid again. The grass was slightly long but we came through it! Sadly there are now only twelve members still playing who played in that first season. As the first season drew to a close we had no money for top soil, fertiliser or grass seed. Our Treasurers wife Joan McEwan came to the rescue here with a loan. I should state now although I have named a few people who have helped with the establishment of our Club there are so many more unnamed members we have so much to thank for in making this the great Club we have today.
The following year a fund raising committee was formed which proved to be crucial for the survival and development of the club. Members took part in numerous fund raising events, such as pantomimes, Old Time Musicals, for these events we are greatly indebted to Nola who worked tirelessly to make these a great success, Murder & Mystery evenings, Quiz nights, Race nights and even a 'pop concert' – Music in the Meadow held on the Rovers football pitch. The total we have raised in our 25 years is the amazing total of over £120,000 with a further £15,000 being donated to charity. In addition, two past members (so far!!) have left money in their will to the Bowls Club as a thank you for the enjoyment that they have received during their time and for us to continue with our efforts.
Since the Club first opened we have seen vast advances/improvements. One of the first improvements was to move the Gents changing rooms into a builders shed which was brought via a £500.00 donation from Roy Grant and his business partner John Lovell. This allowed more room in the Clubhouse as the old Clubhouse as we know it now originally housed the Clubhouse room, both the gents and ladies changing rooms and the kitchen. Since then we have witnessed great improvements with new fences, paths, kitchen, Gents changing rooms, Ladies changing rooms, refurbished the Clubhouse – twice, patio area, a new automated watering system and floodlights. We extended the garden area and purchased machinery for the green. To the envy of many clubs, all these tasks have been undertaken by Club members, saving thousands of pounds. Twenty five men lent their skills and time to complete our latest project – a new ladies changing room and a refurbishment of the Clubhouse. All this while the Head Green Keeper and his nine helpers are preparing our Green for the new season. However, although I have mentioned the men it must be said without the Ladies input we could not have achieved any of the above tasks.
All Club members owe a debt of gratitude to the people and organisations that have made this Club what it is today. I know I personally have had a wonderful 25 years.
The Ladies Section is perhaps the biggest and strongest in Bedfordshire. Twice our Ladies have got to the area finals in the Top Club Competition. On stopping and thinking about this feat alone that is the top 16 clubs in England so it is no wonder our Girls have represented Bedfordshire at the highest level in The Johns and The Walker Cup. At County Level they have won the Pairs, Triples and Rinks. The only trophy to elude them is the Singles – so come on Girls what a season to claim a Full House. Other honours include Bowler of the Year, Club Officers Cup, The Benevolent Triples, Swallow Cup, Mixed Pairs at National Level in addition to reaching the Finals in The Mixed Rinks and the Over 55's Pairs. In 2009 Pauline Bright had the honour of being the Ladies County President. Pauline also won the National Patrons Trophy in 2012.
The Men's Section has been a fairy story. In the 2012 season they won the Division 1 Title for the first time and we can now boast that we are the only Club in Bedfordshire to have won every competition open to them in the County. Along with members representing the County at the highest level i.e. Middleton Cup, Eastern Counties; we have had a Junior English International, Eastern Counties Junior Singles Champion, Eastern Counties Pairs and Rinks Champions. The list goes on – we have won the Harmsworth Cup, Pell Shield, our members have been Champions in the County Singles, Pairs, Triples, Rinks and Mixed Pairs. We have reached the finals at National Level for Mixed Pairs, Rinks and Over 55s Pairs. In addition we have reached the area finals in the Top Club Competition, making us one of the last 16 Clubs in England to reach this stage. Obviously, this needs to be worked on – I am sure if we keep practising we will eventually get the hang of this game!
The Club has produced two qualified umpires at county level and has had the honour of providing a County President; firstly Bob Tompkins and then Kenny Burr in 2014.
We can now boast one of the best greens and club facilities in the area; including floodlights. Barton Bowls Club have gone from novice bowlers to getting both our Ladies & Gents players to the National Finals on a regular basis and proudly boasting that our Club has produced the 2012 English Pairs Champions, who represented England in the Home Countries' tournament played in Dublin in June 2013.